null
FSC-sertifioinnin jyrääminen hämmentää metsänomistajia
Uutinen – Puumarkkinat
FSC-sertifioinnin jyrääminen hämmentää metsänomistajia
9.8.2019
Metsänomistajia on viimeisen vuoden aikana ihmetyttänyt FSC-sertifioinnin vaikutukset myös siihen kuulumattomien metsänomistajien metsätalouteen. Viimeisin aihe on ollut ostajien HCV-kartat.
Metsäteollisuusyritykset, jotka myyvät tuotteita FSC:tä edellyttäville markkinoille, pyrkivät lisäämään FSC-sertifioidun puun osuutta puunhankinnassaan. FSC-puuta on Suomessa ja lähialueilla tarjolla vain rajallisesti. Yhtiöiden on mahdollista käyttää tuotteissa myös FSC Mix -merkintää, jos raaka-aineesta suurin osa on FSC-sertifioitua ja enintään 30 prosenttia peräisin FSC-kontrolloidusta lähteestä.

Useimmilla suomalaisten metsäteollisuustuotteiden loppumarkkinoilla PEFC-sertifikaatti riittää hyvin, mutta jossain vaaditaan FSC:tä.

Kontrolloidun puun standardit FSC:ssä uudistettiin alkuvuodesta ja osa kriteereistä tiukentui. Puunhankinnalle aiheuttavat eniten haasteita saamelaisalueet ja korkean suojeluarvon alueet (HCV). Kontrolloitu puu ei näet saa olla lähtöisin alueelta, jossa perinteisiä oikeuksia tai kansalaisoikeuksia rikotaan, tai alueilta, joissa metsänkäyttö uhkaa korkeita suojeluarvoja. Suojeluarvoon vaikuttavat mm. lahopuun ja vanhan puun määrä sekä turvemaan luonnontilaisuus.
Mahdolliset HCV-alueet digikartoilla
Metsäteollisuus ry on teettänyt Tapio Oy:llä kartat mahdollisista HCV-alueista. Nämä digitaaliset kartat on toimitettu metsällisten toimijoiden tietojärjestelmiin, mutta ne eivät ole julkisesti esillä missään. Kaukokartoituksen ja paikkatiedon avulla laaditut kartat eivät suoraan määritä HCV-alueita, vaan osoittavat mahdolliset alueet. Ostajan on tarkistettava maastossa tai toimistotyönä, täyttävätkö leimikon puut Kontrolloidun puun kriteerit. Mahdolliset suojeluarvot on huomioitava leimikon suunnittelussa. Suomen suurimmat puunostajat ovat mukana FSC Alkuperäketjun sertifioinnissa (Chain of Custody) ja noudattavat FSC:n Kontrolloidun puun standardeja puunhankinnassaan.
Ristiriitainen tilanne hämmentää
Lähes kaikki yksityiset metsänomistajat kuuluvat PEFC-sertifiointiin ja noudattavat metsälakia. He kokevat tilanteen ristiriitaisena. Jos ostajalla on FSC Alkuperäketjun sertifikaatti, pitää PEFC-sertifioinnissa mukana olevan metsänomistajan leimikon täyttää myös Kontrolloidun puun standardit, koska FSC:lle PEFC ei merkitse mitään.

Metsänomistaja ei saa mistään automaattisesti selville, onko hänen metsätilallaan merkintöjä HCV-kartoissa. Tietoja voi kysyä puunostajilta tai metsänhoitoyhdistyksistä. Mutta kuka korvaa menetykset, jos leimikko ei käykään kaupaksi tai se voidaan hakata vain osittain? Pitäisikö metsänomistajan saada lisähintaa siitä, että hänen leimikkonsa täyttää Kontrolloidun puun kriteerit?

Seuraamme FSC:n Kontrolloidun puun vaikutuksia metsänomistajiin ja puumarkkinoihin tarkasti. Olkaa yhteydessä metsänhoitoyhdistykseen tai MTK:n metsäasiantuntijoihin, jos teille tulee ongelmia asiassa.
Metsien sertifiointi
Suomessa on käytössä kaksi metsien käytön sertifiointijärjestelmää: PEFC (Programme for the Endorsement of Forest Certification) ja FSC (Forest Stewardship Council). PEFC-sertifiointi kattaa noin 85 prosenttia Suomen metsistä ja FSC-sertifiointi vajaat 10. Koko maailman metsistä vain n. 10 prosenttia on sertifioitu. Sertifiointi osoittaa kuluttajalle, että hänen hankkimansa tuotteen raaka-aine on kestävästi kasvatettua ja sen alkuperä on todettavissa.
Metsänhoitoyhdistyksen jäsenenä metsänomistaja kuuluu PEFC-ryhmäsertifiointiin. Ryhmäsertifioinnissa yksittäisen metsänomistajan ei tarvitse huolehtia mm. sertifikaatin hakemisesta tai ylläpitämisestä.

​​​​​​​Huomattava kuitenkin on, että nimenomaan FSC:n sitoutunut teollisuus on vastuussa mahdollisista FSC:n vaatimista kontrollitoimenpiteistä, ei metsänomistaja tai metsänhoitoyhdistys. Tästä syystä paras tieto HCV-alueiden edellyttämistä toimenpiteistä on puuta ostavilla metsäteollisuusyrityksillä.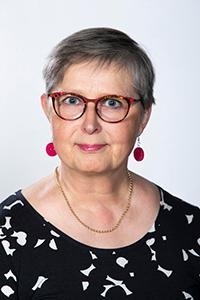 Heli Mutkala
kenttäpäällikkö/metsäasiantuntija
Pirkanmaa, metsäsertifiointi, metsäverotus, SPV, koulutusasiat
+35840 717 5251
aiheet: puumarkkinat, metsäsertifiointi, fsc-sertifiointi