null
Peltomaan hiilinielu – paljonko?
Blogi - Maaseutuympäristö
Peltomaan hiilinielu – paljonko?
10.5.2019
Hallitusneuvottelut ovat menossa ja ilmastopolitiikka yksi tärkeimmistä aiheista. Maatalouden kannattavuus on myös otsikoissa. Miten nämä kaksi kytkeytyvät toisiinsa?
Yhteinen nimittäjä on peltojen hiilinielu. Aihe vaatii tarkemman pohdinnan, niin vaikea sitä on hahmottaa, mutta niin paljon siihen liittyy mahdollisuuksia.
Viime viikkoina olen tarkemmin käynyt läpi julkaisuja, joissa kasvihuonekaasujen päästöjen ja biologisen sidonnan kokonaiskuvaa on pyritty pukemaan numeroiksi.
Uusimpia on Conceptual basis of managing soil carbon: Inspired by nature and driven by science http://www.jswconline.org/content/74/2/29A.full.pdf. Professori Rattan Lal'in huikea analyysi pysähdytti. Maaperätieteilijän sydäntä lämmitti, kun luin emeritusprofessorin tekstiä ja muistelin keskustelujamme Ohion kampuksella vuonna 1993. Aiheenamme oli vähennetty maanmuokkaus ja juuristomittaukset, joista juuri tein väitöskirjaani analyysejä Michigan Statessa.
Professorin kirjoituksessa on kaikki oleellinen. Johdanto ilmastopolitiikkaan, miksi meillä on ilmastonmuutos ja miksi tarvitaan muutosta maankäyttöön. Maailman maa-alueilla on mahdollisuus, potentiaali merkittävään hiilinieluun, joka tasapainottaa ihmistoiminnan päästöt. Kunhan ensin yritetään saada päästöt alas ja sitten sidonta ja nielut ylös. Tällä marssijärjestyksellä, kuten MTK:n ilmasto-ohjelmammekin ohjeistaa.
Professori Lal laskee, että vuosisadan loppuun mennessä voimme sitoa maaperään 333 gigatonnia (miljardia tonnia) hiiltä, joka riittää laskemaan ilmakehän hiilidioksidin pitoisuuden (nykyään 405.5 ppm) turvalliselle tasolle, kun fossiilisista luovutaan 2050 mennessä. Pitoisuus ei saa nousta missään vaiheessa yli 560 ppm. Se on hiilibudjettimme.
Jälkityön tekee maa ja kasvit – luonto, viljelijät ja metsienhoitajat. Tuo 333 Pg eli gigatonnia riittää, kuten Lal esittää: (560 ppm CO2-405,5 CO2) / (Pt C /0,47 ppm CO2) = 328 Pg hiiltä C. Tarvitaan "Emission negative strategies of soil and vegetation management" vuosille 2020-2100.
Mitä tämä tarkoittaa meille ja Suomen pelloille, nyt 2,25 miljoonalle hehtaarille? Mikä voisi olla hiilinielupotentiaalimme?
Päädyin 10 miljoonaan hiilidioksidiekvivalenttitonniin. Näin paljon voisimme tuottaa hiilinielua, hiilivaraston kasvua vuodessa, eli lisätä hyvin hidaskiertoista maaperän hiiltä, joka muuntuu humukseksi tai on dynaamista mikrobimassaa.
Iso luku. Kyllä. Toivon tästä keskustelua. Suuruusluokka kuitenkin pätee vertaamalla esimerkiksi Käytännön Maamiehessä 26.4.2019 julkaistuun Luken taulukkoon, jonka perusteella voi päätyä 7,5 miljoonaan hiilidioksidiekvivalenttitonniin suorakylvömenetelmällä, jossa on mukana viljelykierto ja oljet jätetään maahan.
Laskelmieni taustalla on oletuksia uusimpien tutkimusten perusteella. Esimerkiksi se, että juuristomassasta kolmasosa jää maahan ja puolet kasvukauden kokonaisbiomassasta on juuristoa eritteineen. Koska kyse on potentiaalista, laitetaan ehdolle suurempi sato. Oletetaan keskimääräiseksi maanpäälliseksi biomassaksi kahdeksan tonnia hehtaarilta vuodessa. Potentiaali edellyttää myös, että nopea hiilikierto maaperän ja ilmakehän välillä minimoidaan - kasvipeitteisyydellä, nurmikierrolla ja minimimuokkauksella. Nopeasta kierrosta pitää näin saada hiiltä hitaaseen kiertoon. Kolmas kierto on kulutuskierto, sadossa poisvietävä hiili, jonka me tai karja syövät. Tämä hiili on tapana nollata. Sen arvo on ruokamme, maatalouden perustehtävä.
Kerrataan oletukset: Kuudesosa yhteyttämistuotteista maan varastoon, puolet juuriin, kolmasosa kulutuskiertoon (sadonkorjuu) ja loput nopeaan kiertoon (ilmakehän ja maaperän välillä). Jos kokonaisbiomassa on kahdeksan tonnia (sato, korret, karike) ja saman verran menee maanpinnan alle, saamme näillä oletuksilla 2,25 miljoonalle peltohehtaarillemme 59,4 CO2-ekvivalenttitonnia nielua. Muistamme, että kuiva-aineessa on 45 % hiiltä ja hiilimassa saadaan hiilidioksidin massaksi moolimassojen suhteella 44/12.
Lähes 60 miljoonasta CO2-tonnista kuudesosa on 10, joka sitoutuisi humukseksi ja mikrobimassaan. Jotta pääsemme tuohon kymppiin, hehtaarisatojen pitää kasvaa ja maata muokata mahdollisimman vähän. En ehdota lisää peltoa, mutta nykyisten hehtaarien parempaa sadontuottoa ja enemmän juurisyötettä kyllä.
Kymppi vaatii ravinteensa, eli lannoitusta tarvitaan. Karjanlanta on nähtävä ravinnelähteenä ilman fossiilienergiaa. Lanta on hiilisyöttöä maahan, kuten monet orgaaniset maanparannusaineet.
Suurin hiilinieluun vaikuttava tekijä on kuitenkin kasvava kasvi juurisyötteineen. Tämä on se oleellinen linkki maatalouden kannattavuuden ja ilmastopolitiikan välillä: Tuottava maa säilöö hiiltä pelloillemme ja tasapainottaa muita päästöjä. Ja tuottaa ruokamme – puhtaasti ja turvallisesti.
PS. Kymppiä pohdiskellessa hahmottelin kolme kiertoa pellolle: 1) Nielu, 2) Nopea kierto 3) Kulutuskierto (satoon). Kakkosesta pitäisi saada liikettä ykköseen, maaperän suojiin.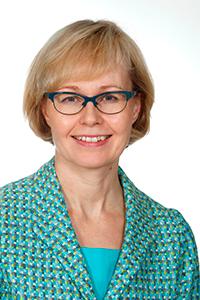 Liisa Pietola
ympäristöjohtaja
maa- ja metsätaloussektoreiden ympäristö-, ilmasto-, luonnonsuojelu- ja maankäyttöasioista vastaava johtaja, kestävä kehitys ja ympäristövastuu, kansainväliset ympäristöasiat, EU:n viljelijäjärjestöjen (Copa-Cogeca) ympäristöryhmän pj .2014-2018
+35820 413 2434
+35850 438 4014
Ajankohtaista - lue lisää
Banneri -ohjeet kirjautumiseen
Banneri - Jäsenedut- oikea palsta
Banneri - Ympäristölupaukset - oikea laita