null
Embla 2022 - pohjoismaiden ruokakilpailu huipentuu 20.6.
Tiedote – Kotimainen ruoka
Embla 2022 - pohjoismaiden ruokakilpailu huipentuu 20.6.
20.6.2022
Nyt kilpaillaan pohjoismaisen ruuan herruudesta! Embla Food Awards 2022 -finaali järjestetään Oslossa 20.6.2022. Kisaa käydään seitsemässä eri kategoriassa. Tutustu kilpailuun ja suomalaisiin finalisteihin alta!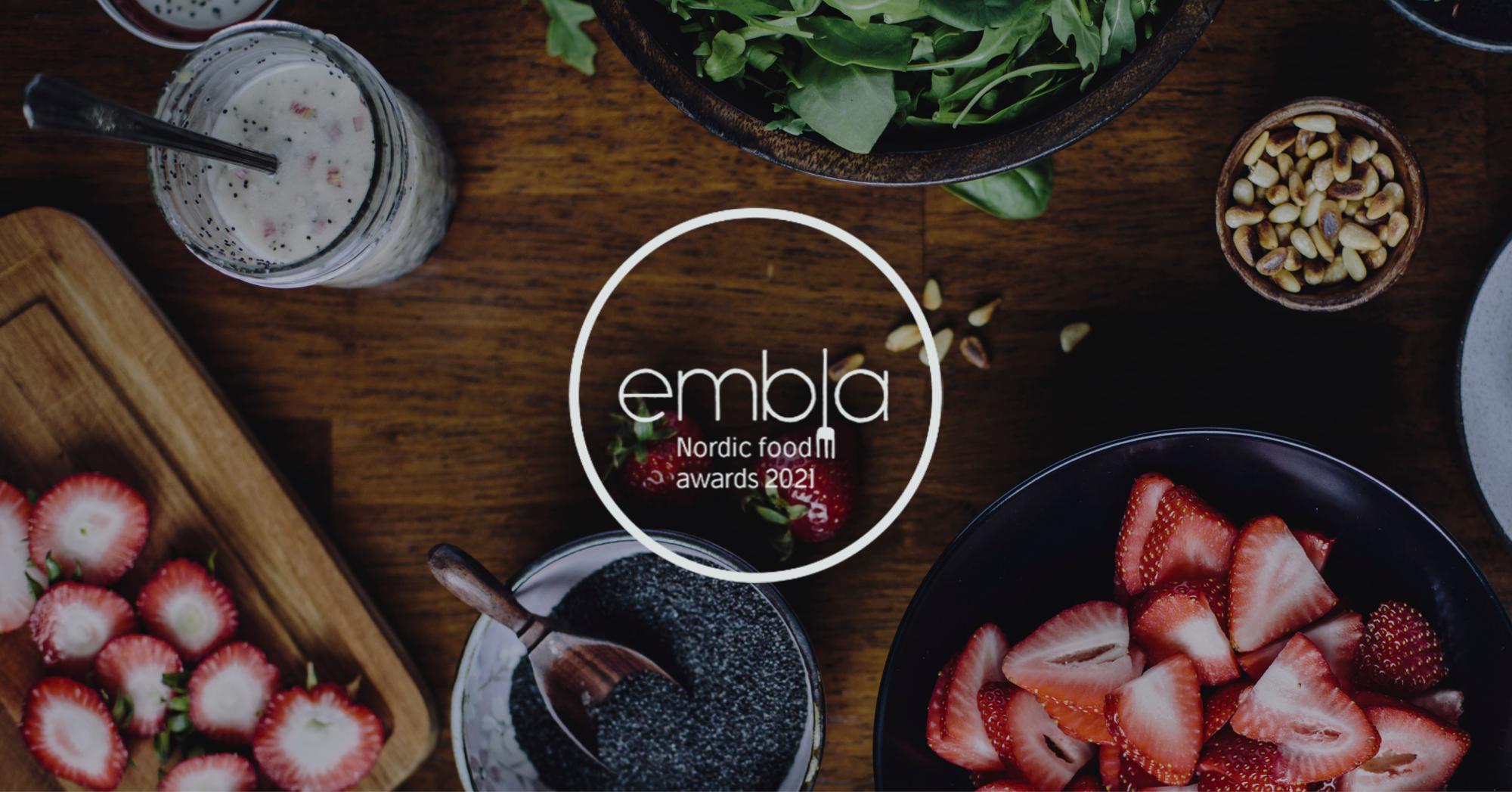 Tänään kamppaillaan pohjoismaisen ruuan herruudesta Kisaa käydään seitsemässä eri kategoriassa, Suomi edustettuna jokaisessa Embla Food Awards -finaalin suora lähetys klo 20:45.
https://www.facebook.com/emblafoodawards/
Pohjoismainen ruokakilpailu järjestetään nyt kolmatta kertaa. Finaali käydään Oslossa 20. kesäkuuta 2022. Pohjoismaisen ruokakilpailu Emblan tarkoituksena on vahvistaa pohjoismaista ruokakulttuuria ja ruokaidentiteettiä ja samalla kunnioittaen ihmisiä ruoan takana, sanoo Bjorn Gimming, Norjan tuottajajärjestön puheenjohtaja ja vuoden 2022 kilpailun isäntä.
Sarjoja on seitsemän ja jokaisessa sarjassa kilpailee suomalaisia ruoka-alan ammattilaisia ja innovatiivisia yrittäjiä. Osallistujia arvioidaan kestävyyden, ainutlaatuisuuden ja pohjoismaisen ruokakulttuurin arvojen perusteella. Suomen tuomaristoon kuuluvat Riitta Mustonen, Kim Palhus ja Johan Åberg. Valtakunnalliseen kilpailuun osallistuu kunniajäsenenä Anni-Mari Syväniemi.
Aikaisempia suomalaisia Embla-voittajia ovat Michael Björklund ja Thomas Snellman vuodelta 2017 sekä Ainoa Winery ja Svinn-Battle/Motiva Oy, Elina Ovaskainen vuodelta 2019.
Tutustu finalisteihin alta!
Pohjoismainen ruuantuottaja - Voimapapu
Jokaisen sukupolven tavoitteena on ollut kehittää tilanpitoa tai viljelyä ajan hengessä.
Martin ja Emilia Klinckowström ostivat Karviaisten tilan 1914 ja muuttivat Angelniemelle mukanaan pojat Arthur ja Olof. Martin oli kotoisin Vihdin Hiiskulasta ja Emilia Kemiön Mjösundista. Angelniemi valikoitui kotipaikaksi Emilian suvun asuessa lähialueilla ja Salon seudun peltojen hyvien kasvuolosuhteiden takia. Karviaisten tila on vanha rälssitila, paikallisten suussa joskus kartanoksikin nimetty.
Karviaisten tila on erikoistunut härkäpavun viljelyyn. Tilalla on omat myllyt, joissa hyödynnämme koko härkäpavun. Kaikki tuotteemme pakataan paikan päällä Karviaisten tilalla: jauhetut härkäpavut, jauhot ja luonnolliset, kokonaiset härkäpavut. Tila tuottaa myös itse paahdettuja härkäpapuja. Tuotekehitystyö on jatkuva prosessi.
Brändi on Voima-Papu. Tuotteet sisältävät 28 % proteiinia ja 13,6 % kuitua. Ne ovat myös tutkitusti gluteenittomia.
Lue lisää täältä
Pohjoismainen ruokayritys - Ville Haapasalo/ Haapasalon Hatsapuri

Haapasalon Hatsapuri on Puumalasta kotoisin oleva Hatsapureja ja Hatsapurilloja valmistava ja myyvä yritys, jonka Ville Haapasalo perusti kesällä 2020.
Hatsapuri (georgiaksi hatsa tarkoittaa juustoa ja puri leipää) on georgialainen kansallisruoka, jolla on vuosituhantiset perinteet. Se sisältää noin puolet painostaan georgialaista täyteläistä ja suolaista sulguni-juustoa, ja puolet makeahkoa ja hennosti hapanta maitoon leivottua vehnäleipätaikinaa.
Ville Haapasalo on tunnettu näyttelijä ja arvostettu Itä-Euroopan kulttuurin ja keittiön puolestapuhuja Suomessa. ​Hän on onnistunut herättämään suurta kiinnostusta tätä perinteistä Georgian tuotetta kohtaan ja tuonut sen suomalaiseen kontekstiin ja ruokalautasille.​
Lue lisää Hatsapurista täältä
Pohjoismainen ruoka-artesaani - Herkkujuustola
Herkkujuustolan sveitsiläinen juustomestari Peter Dörig muutti Suomeen 90-luvun puolivälissä ja toi tullessaan suvun juustonvalmistuksen perinteet ja rakkauden jaloihin juustoihin. Peter varttui perinteisessä kyläjuustolassa, jossa isä teki Appenzellerjuustoa.
Herkkujuustola on yhdistelmä sveitsiläistä juuston¬valmistus¬perinnettä ja puhtaita suomalaisia raaka-aineita. Juustoperheeseen kuuluvat muun muassa Vilho, Hilma, SavuHilma, Heidi, Väinö, Metsuri ja PunaHeidi. Lisäksi Herkkujuustola tuottaa aitoa kirnuvoita ja lähijogurttia. Herkkujuustolan katon alle kiteytyy juustoalan paras osaaminen.
Tutustu Herkkujuustolaan täältä
Pohjoismainen ruokaviestijä - Satokausikalenteri
Satokausikalenteri on vuonna 2011 kehitetty konsepti, joka perehdyttää ihmisiä syömään eri sesonkien mukaisia vihanneksia ja hedelmiä. Satokausi-tuotteisiin kuuluu esimerkiksi vuosittain ilmestyvä kalenteri. Satokausi-brändiin liittyy myös sosiaalisessa mediassa toimiva yhteisö.

Julkaisemme päivittäisiä ruokasisältöjä, jotka tukevat tehtäväämme: auttaa suomalaisia syömään enemmän kasviksia. Tämä tuo väriä (kirjaimellisesti) ruokiin ja rikastaa ruokakulttuuria. ​
Suosittelemme seuraajiamme käyttämään elintarvikkeita, joilla on positiivinen vaikutus paitsi ihmiseen itseensä, myös tuottajiin ja ympäristöön. ​
Lue lisää täältä
Pohjoismainen joukkoruokailuosaaja - Steinerpedagogikens Vänner i Västnyland SPV rf.
SPV on Mikaelskolan Waldorf -koulua ja Rosengården Waldorf -päiväkotia ylläpitävä organisaatio Tammisaaressa. Koululla on oma keittiö, jossa tarjoillaan 180 annosta päivässä. Koulu ja päiväkoti ottivat ensimmäisenä Suomessa käyttöön Diet for a Green Planet -periaatteet. Periaatteina ovat lihan vähentäminen, paikallisesti tuotettujen ja kausiluonteisten ekologisten tuotteiden käyttö sekä ruokahävikin vähentäminen. Tavoitteena on opettaa opiskelijat syömään kestävästi tuotettua ja terveellistä ruokaa.
Ohjelma vaatii panosta keittiön henkilökunnalta, opettajilta ja vanhemmilta. Joka syksy perheet toimittavat hedelmiä ja marjoja keittiöön koko lukuvuodeksi. Kaikki tuotteet ovat mahdollisimman paikallisesti tuotettuja, ja lihaa tarjoillaan kerran viikossa. Koulun opetussuunnitelmassa otetaan jokainen oppilas mukaan eri tavoin: alemmilla luokilla perehdytään viljelyvuoteen käytännönläheisesti, kun taas vanhemmat osallistuvat aterioiden suunnitteluun koulun keittiön kanssa.
Ohjelma on osoittanut, että on mahdollista tarjota kestäviä aterioita päivittäin, ja samalla kasvattaa onnellisia, terveitä lapsia.

Pohjoismainen ruokamatkailukohde - ERG European Region of Gastronomy Kuopio
Kuopion alue ja Pohjois-Savon maakunta on saanut ensimmäisenä alueena Suomessa European Region of Gastronomy -tunnustuksen vuosille 2020-21, jota voidaan verrata kulttuuripääkaupunki -titteliin. ERG-tunnustus kehittää myös monipuolisesti kulttuurin ohella gastronomian sekä ruoan ympärille kietoutuvia tapahtumia, ruokamatkailua, maataloutta, koulutusta ja yrittäjyyttä sekä painottaa vastuullisuutta.
ERG-kokonaisuus on toteutunut
Itä-Suomen ProAgrian
&
Maa- ja kotitalousnaisten
,
Kuopion kaupungin
,
SavoGrown
sekä
Savonia AMK:n
hankeyhteistyönä. Mukana kehitystyössä on yli 80 yritystä, tapahtuma¬toimijaa, oppilaitosta ja kehittämisorganisaatiota koko maakunnan alueelta. Tunnustuksen myöntää IGCAT, joka on eurooppalaisten alueiden yhteistyöverkosto, ja se edistää monialaista yhteistyötä ruokakulttuurin, matkailun, kaupunkikulttuurin ja taiteen alueilla.
Matkailijalle Pohjois-Savon aarreaitta tarjoaa aitoa savolaista gastronomiaa, uudenlaisia elämyksiä ja ruoan ympärille kietoutuvia monipuolisia tapahtumia. Juhlavuosien kantava teema on foraging – elämä luonnon rytmin mukaan. Puhdas luonto ja lähiruoka lautasella: herkullinen horta, makea kesä, satokauden maut ja ensiluokkaiset luonnonantimet. ERG-tunnus viestii paikallisista ja aidoista, vastuullisesti tuotetuista tuotteista sekä palveluista. Pöytä on katettu
www.tastesavo.fi
Pohjoismaista ruokaa lapsille ja nuorille -Kokkaa kotimaista -kampanja, MTK ja MSL

MTK ja Maaseudun Sivistysliitto ovat tehneet käytännönläheisen Kokkaa kotimaista -ruokakasvatusmallin kahdeksasluokkalaisille nuorille. Mallin tavoitteena on kertoa suomalaisesta alkutuotannosta herkullisella ja konkreettisella tavalla. Sen avulla pääsee itse kokkaamaan ja tutustumaan suomalaiseen rikkaaseen ruokakulttuuriin. Paikallisten MTK-yhdistysten jäseninä olevat ruuantuottajat toimittavat herkulliset ruokakorit oppilaiden käyttöön, ja samalla nuoret pääsevät tapaamaan myös ruuantuottajia. Opetusmateriaali on kouluille maksutonta.
Nuoria kuluttajia kiinnostaa yhä enemmän, mitä he syövät sekä miten ja missä ruoka on tuotettu. Keskustelun keskiössä ovat terveellinen ruokavalio, ruuan vastuullisuus ja ympäristökysymykset. Kokkaa kotimaista -kampanja haluaa innostaa nuoria ruuanlaittoon, koska yhdessä kokatun ja nautitun aterian voima on vaikuttava.
Kokkaa kotimaista -ruokakasvatusmalli on tehty kotitalousopettajille helpoksi toteuttaa. Ruokakorissa suositaan kotimaisia raaka-aineita ja lähiruokaa. Suomenkielinen materiaali on vapaasti katsottavissa täällä:
https://moodle.msl.fi/course/view.php?id=25
Mikä Embla?
Embla-ruokakilpailun on perustanut Pohjolan Talonpoikaisjärjestön Keskusneuvosto NBC. Pohjoismaiden ministerineuvosto on mukana tukemassa kilpailua ja se on myös osa Uusi pohjoismainen ruoka III -ohjelmaa. Kilpailuun osallistuvat Islanti, Tanska, Norja, Ruotsi, Suomi, Ahvenanmaa, Färsaaret ja Grönlanti. Emblan suomalaisedustuksesta vastaa suomen- ja ruotsinkieliset tuottajajärjestöt Maa- ja metsätaloustuottajain Keskusliitto MTK sekä Svenska lantbruksproducenternas centralförbund SLC. Ahvenanmaan edustus toteutuu Ahvenanmaan maakuntahallituksen hankerahoituksella.
Norjalainen tuottajajärjestö Norges Bondeslag isännöi palkintojuhlia Oslossa 20.6.2022.
Lisätietoja:
Mia Wikström, SLC, viestintäjohtaja, puh 050 355 3213
Heidi Siivonen, MTK, ruokamarkkina-asiantuntija, puh, 040 568 8802
Lue lisää Emblasta: emblafoodaward.com
Heidi Siivonen
ruokamarkkina-asiantuntija, kuluttajatyö
+35820 413 2925
+35840 568 8802